Customer lifetime value meaning
Customer Lifetime Value (CLV), at its core, represents the total revenue a business anticipates earning from a customer throughout their entire relationship. This key performance indicator goes beyond mere transactional analysis, offering a comprehensive view of the long-term financial contribution of customers to a business.
In the context of rising customer acquisition costs, particularly in sectors like e-commerce, understanding and maximizing CLV becomes even more crucial. It's a well-established fact that retaining an existing customer is markedly more cost-effective than acquiring a new one. By focusing on strategies that enhance the CLV, you can optimize your marketing spend, ensuring a higher return on investment (ROI) and sustainable growth.
Strategic importance of CLV
Why is CLV so critical? First, it shifts the focus from short-term gains to long-term relationship building. When you recognize that CLV encompasses the total revenue a business earns from a customer over time, it becomes clear that retaining existing customers is essential. This perspective helps in designing strategies that are not just about attracting new buyers but more about nurturing existing relationships to enhance their lifetime value. For instance, an e-commerce brand might implement loyalty programs or personalized marketing campaigns to increase repeat purchases, thereby boosting the CLV.
"CLV guides businesses to focus on long-term profitability, rather than just pursuing immediate sales."
Moreover, by understanding the total expected revenue from each customer account, businesses can make more informed decisions about customer acquisition costs and ROAS. Let's say an online retailer discovers that customers who purchase high-end products tend to have a higher CLV. This insight could lead them to tailor their marketing efforts towards this segment, allocating resources more effectively. In this way, CLV helps businesses prioritize and optimize their marketing strategies, aligning them with long-term profitability rather than just immediate sales.
Professionals use CLV not just as a retrospective measure, but also as a predictive tool. Predictive CLV uses historical data to forecast future customer behaviors, enabling businesses to identify high-value segments and tailor their offerings accordingly. A simple yet effective tactic is to analyze purchase patterns and preferences to create targeted promotions that resonate with specific customer groups.
Many marketers place CLV among their top metrics for gauging the success of marketing campaigns. This shift underscores a growing recognition of CLV's unique ability to provide a comprehensive view of customer profitability. Unlike traditional metrics such as Net Promoter Score (NPS) or Customer Satisfaction Score (CSAT), which offer insights into customer perceptions and experiences, CLV stands apart with its direct correlation to revenue generation.
CLV calculation
To calculate CLV, begin by dividing the total revenue by the number of unique customers. Then, multiply this figure by the customer lifespan, which refers to the duration for which customers remain engaged with your brand. Finally, subtract the customer acquisition cost (CAC) from this product.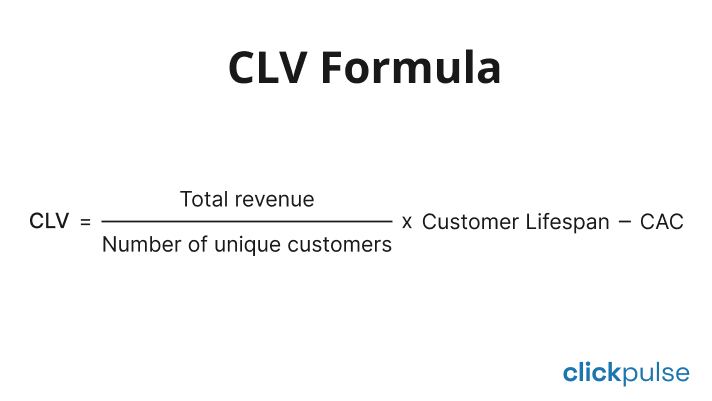 Let's say your business has a total revenue of $100,000 over a year. You served 1,000 unique customers during this period, and it cost you $50 to bring one customer in. The average customer lifespan is estimated to be 3 years. In this scenario, the CLV of an average customer would be $250.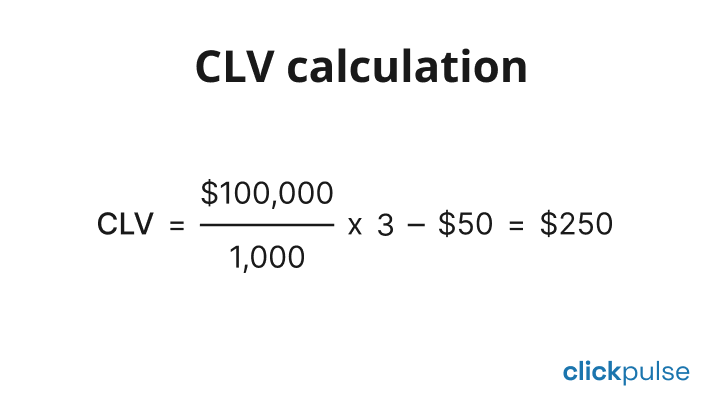 CLV maximization strategies
To enhance CLV, it's essential to focus on extending the customer lifespan, which involves nurturing long-term relationships through consistent and value-adding interactions. Businesses should aim to increase order frequency by encouraging repeat purchases. This can be achieved through targeted marketing campaigns that resonate with the customer's evolving needs and preferences. For example, personalized email marketing that highlights products based on past purchases or browsing behavior can significantly enhance engagement and encourage repeat purchases.
"Enhancing CLV requires focusing on extending customer lifespan and increasing order frequency."
Boosting order value is another strategy. This involves implementing tactics such as bundling products or services and offering freebies or discounts on larger orders. Such strategies incentivize higher spending and enhance the perceived value of the offering. For instance, a skincare brand offering a free travel kit with purchases over a certain amount. This not only encourages customers to spend more to reach the threshold but also introduces them to new products, potentially expanding their interest in the brand's range.
Leveraging CLV in marketing
Utilizing CLV data in diverse marketing scenarios is crucial for business growth. Customer loyalty programs, for instance, can be a powerful tool. They reward repeat business, fostering a sense of belonging and appreciation among customers. By analyzing CLV data, businesses can tailor these programs to target customers with the highest lifetime value, offering them exclusive deals or early access to new products. This approach not only boosts revenue but also helps in identifying potential retention issues and targeting ideal customers more effectively.
Reducing customer acquisition costs is another significant benefit of focusing on CLV. By understanding the characteristics of high-value customers, businesses can streamline their marketing efforts to target similar prospects, thereby reducing the overall cost of acquiring new customers. Moreover, insights gained from CLV data can guide improvements in products and services, ensuring they meet the evolving needs of the customer base.